A life of public service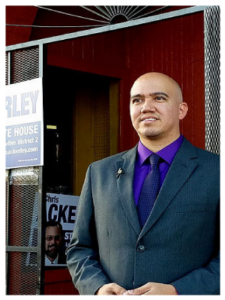 Sergio Arellano was born and raised in Tucson, AZ. He joined the Army at the age of 17 and served his country honorably as an Infantryman and Human Resources Specialist for a total of 10 and a half years before retiring from the military due to combat sustained injuries. Upon leaving the Army, Sergio immediately started volunteering to help veterans in his local community and throughout the state. Serving the veterans and military families:
● Sergio has worked in Human Resources for the Department of Veteran Affairs and then became the Arizona State Director for a Department of Defense program called the Army Wounded Warrior Program (AW2). At AW2 Sergio developed relationships on a national and international level to support severely injured soldiers and their families.
● In 2011 Sergio returned from the private sector in order to serve the community and the State of Arizona by helping homeless veterans get off the streets. After seeing the injustices on behalf of banking organizations to veterans and families, he went to work for the Attorney General of Arizona as the Outreach Director for the National Mortgage Settlement Program. Under that program Sergio helped hundreds of families stay in their homes and traveled every rural city and all 15 counties in Arizona providing housing services to people in need.
Serving the public:
● Currently Sergio is the President and CEO of Tipping Point LLC, a political consulting firm that focuses on canvassing, phone banking, marketing, grassroots efforts for multiple candidates, ballot initiatives and voter registration efforts, President and CEO of Fresh Credit Financial, an automobile loan company. Prior to opening his own companies, Sergio was Co-Owner of The Community Organizer, which oversaw the management and implementation of 3 victory offices in Southern Arizona for the 2016 presidential election. These efforts resulted in over half a million phone calls made and over 65 thousand doors knocked for Donald Trump for President. Sergio also served an elected school board member for Continental School District #39, where his children attend school.
● In the past, Sergio has served as the State Director for the Republican National Committee with an emphasis on Hispanic Outreach in the state of Arizona and Strategic Initiatives Director for the Arizona Republican Party. He also served a surrogate for Spanish media and International media for both the Republican National Committee, the Arizona GOP, and the Trump campaign in 2020.
● Sergio has served on several boards and commissions, including: the Arizona Liquor Commission, the Pima County Transportation Advisory Committee, Pima County Sales Tax Advisory Committee and Commissioner for the Town of Sahuarita's Parks and Recreation Commission. He is also past Chairman of Legislative District 2 Republicans and has served as 1st Vice Chair of Pima County Republicans.
Sergio has won a number of awards including: Chairman of the Year by the AZGOP, the Barry Goldwater Award for Excellence by the AZGOP, he is a Certified Peer Mentor for the Wounded Warrior Project and longtime philanthropist with a local Nogales, AZ Radio station 99.1 La Maxima.
● His organizational participation and memberships include the Arizona School Board Association, Arizona Latino Republican Association, American Legion and Tucson Hispanic Chamber of Commerce. Sergio is also a founding member of a Latino Business Owners group; Arizona International Consortium, founding member of the Santa Cruz County Elections Integrity Committee, and founding member of the first ever AZGOP Latino Coalition.